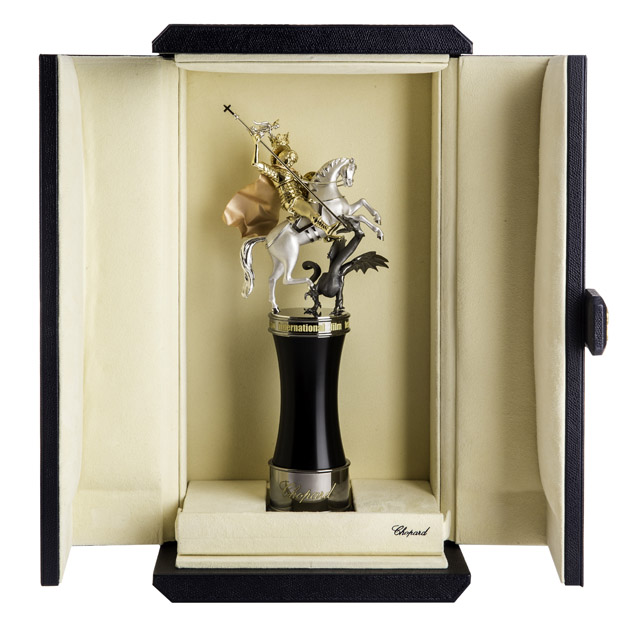 One of the oldest Swiss brands that in 2015 marked its 155th anniversary, Chopard is widely known not only for its exquisite jewelry and high-technology watches, but also for its significant contribution to the world cinema. Chopard has been a Cannes festival's official partner since 1998. It is Chopard that makes the Palme d'Or, the festival's most prestigious prize, which since 2014 has been produced from Fairmined certified gold.
In 2016, Chopard is expanding the area of cooperation with international film festivals. In the Year of the Russian Cinema, Chopard becomes a partner and an official jeweler of the 38th Moscow International Film Festival. The renowned Swiss brand will present the fresh design of the winners' awards, developed personally by company's co-president and creative director Caroline Scheufele.
The brand's shops in Switzerland will produce 13 awards to distinguish the talent and skills of widely recognized as well as young actors, directors and producers. Precious metals will be used to create the festival's main award, Saint George's statue. Golden prizes by the Chopard craftsmen will be awarded to the winners in two nominations: "For an outstanding contribution to the world cinema" and "The best film". Winners in seven nominations will receive silver St George.
Apart from the main prizes, watch and jewelry company Chopard will present the refined special prize «I Believe. K. Stanislavsky» for the outstanding achievement in the career of acting and devotion to the principles of K. Stanislavsky's school.
As a sign of respect and recognition of the MIFF Chairman of jury's special role, Chopard will produce an exclusive golden chain.
As part of its cooperation with the Moscow International Film Festival, watch and jewelry brand Chopard is establishing a new award to recognize and encourage young Russian actors' careers. A similar prize, Trophée Chopard, has been awarded at the Cannes to distinguish talented and promising actors for 16 years.
Moscow International Film Festival traditionally becomes not only a key event in the cinema world but also one of the most engaging social activities. To honour this annual event, Chopard will represent a new jewelry collection by the name of High Jewelry to display the outstanding skill of the Swiss jewelers. Famous performers will walk up the red carpet accentuating their beauty and style with the elegant Chopard jewelry.