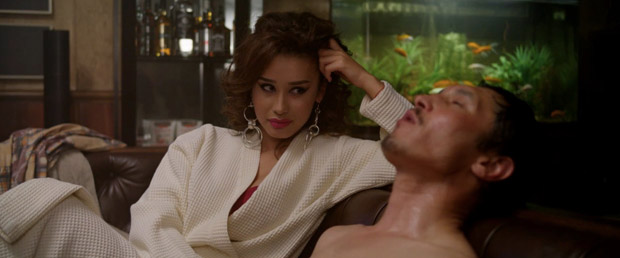 THE SECRET OF A LEADER
director Farkhat Sharipov
Kazakhstan
2018
97'
When Kanat hits the bottom still living with his mother at 40 passed, stuck mid-level at his bank job, fantasizing about girls he'll never have, the unexpected encounter with his evil half, long-time friend Daniyar makes him take a moral u-turn and his life take a plunge in the dark.
Farkhat Sharipov
Born in 1983 in Almaty, USSR. Graduated from Kazakh National Academy of Arts (2007) and New York Film Academy (2008). In 2010 he made his feature debut The Tale of Pink Bunny, which was followed by Nothing to Do With Aliens (2013) and 4+1, premiered in Busan in 2016.
Sales: Antipode Sales & Distribution
www.antipode-sales.biz
True art is always one step ahead of reality, but in case of "The Secret of a Leader" it's two steps. In the second half of the film, bank clerks in a casual lift discussion mention possible re-naming of Astana. The film had been chosen for the MIFF main competition way before this glorious idea appeared on Kazakh agenda, let alone the actual re-naming of the Kazakh capital. Other topics of their heated discussions include possible re-naming of Kazakhstan in general (so that the "-stan" part wouldn't scare off Western tourists), transferring the Cyrillic-based Kazakh language to Latin alphabet, replacing St Valentine's Day with a more patriotic analogue, portraits on banknotes, and much more.
Such chatting not only creates a distinct comic effect and the general feeling of the "groundhog day" in this steel-and-glass building but also intensify the uncertainty of tomorrow. In this case, this uncertainty has a reason: the bank is on the verge of collapse, the clerks on the verge of being made redundant, and the very insignificant of them – Kanat – sees his life changing, which scares him rather than gives birth to ambitions.
Kanat is a classic idea of a loser, a totally nondescript man who whiles away his time at a petty job, still lives with demented Mum, sleeps on the sofa in the kitchen of a dilapidated building to the sound of drunk shouts in the yard. His own family life came to an end a while ago – just like any hopes for any change. In the evening, he and his co-workers are herded to pointless leadership trainings, where an omniscient charlatan utters platitudes that are supposed to help them become leaders. Kanat doesn't look like any kind of an alpha male – unlike Danik, his old uni friend, who comes out of the blue in the guise of a big fish, a prince of the universe on a white Mercedes with a personal driver. Danik drags him to restaurants, saunas and deafening vulgar karaoke bars and offers his own "trainings", explaining the joys of sexually abusing 18-year-olds. Apparently it scares Kanat, yet he has no guts to protest.
Farkhat Sharipov's film can be divided into two parts. When you settle in with the idea the film will go on like this until the end, it suddenly changes rhythm and genre. In the beginning, it is a grotesque, shrill story, both funny and static, just like the protagonist's life. The characters' lines are very much to the point, just like camera's POV which focuses on the absurd even in the most trivial scenes. Still, it's hard to call this a comedy - because of the palpable creepy reflection of everyday nightmare. Then it turns into a detective story, when a prostitute Danik brought to one of his parties suddenly goes missing. Classic moral choice that Kanat faces is not as interesting as the slow shift from his general dislike of the rich and famous to very well grounded suspicions.
Obviously, the leadership training that the Almaty loser, and simultaneously the only conscientious man in the movie, goes through, has nothing to do with the courses he continues to attend between visits to billiard clubs and saunas. But he obeys the instruction "Associate only with successful people" to the letter. When drunk Kanat mentions at the revolting "elite" party that ordinary people's life is very hard, Danik replies, irritated: "You are the people. Is your life bad?" Actually, yes, it is. But Kanat answers: "No". Perhaps it is this proud "No" that explains why the society continues degrading at breakneck speed.
Igor Savelev