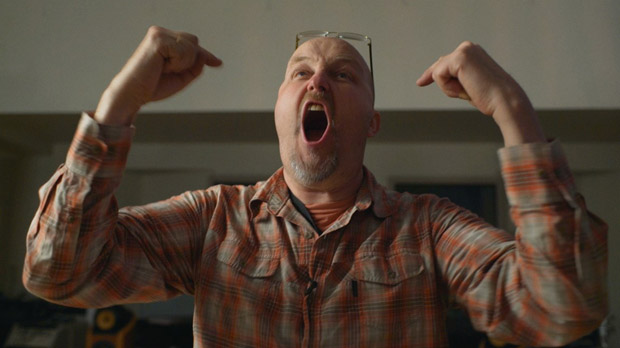 FOR VI ER GUTTA
MEN'S ROOM
Men's Room
Norway
2018
90`
Every Tuesday twenty-five tattooed middle-aged men take a break from their everyday lives to meet and drink beer, tell bad jokes and sing dirty rock songs. They have landed their biggest gig ever – warming up for Black Sabbath. But one of them confides he's got little time left to live. This summer becomes a race against time and death.
Petter SOMMER (b. 1975) Journalist, sound engineer and sound designer. He directed TV documentaries "When Dad Kills" (2013) and "Operation Conspiracy" (2014), which both won the highest National Awards. He is also a sound engineer and sound designer. "Men's Room" is his feature documentary debut.
Jo VEMUND SVENDSEN (b. 1988) Worked as a TV journalist. From 2016, Jo works in the documentary world while remaining a journalist and a researcher; the program "A Little Island in the World" won the highest National Award for Best News Programming in 2012. "Men's Room" is his feature documentary debut.
As promised in the title, the film is about men – fragile and touching men. The plot centers on a male choir of 25 members. Guys with utterly serious faces and laudable diligence sing in thin voices, much like N'Synch in their young years: "I am an asshole!" Or raise a more pressing point: "Why does it hurt when I pee?" Finding the right tonality for a part is another important issue. Shouldn't this line about peeing be a tad higher? Yes, sure, great idea!
The men are in for a serious challenge. They're entrusted with warming up for a concert of the legendary Black Sabbath! Just think of it, they'll share the stage with great Ozzy Osbourne himself! "Well, we won't be allowed to come to Ozzy in person," one of the singers dwells. His fellow is unabashed: "We'll say one of us has his birthday!"
It might seem this is an ode to hedonism, a nice documentary comedy. These guys are optimistic, kind, and able to laugh at anything. The problem surges when it appears that Ivar, the head of the choir, is seriously ill. "The doctor said I had two or three months left. That was two months ago." So, scrupulous details of slow fading appear in the movie on a par with carefree cheerfulness.
Ivar's credo is to bring happiness to the world. Not just to pass his skills on to the singers but teach them the world view which will help them to keep a sense of humor and remain composed even at a funeral. "And I'm the first to experience it". Needless to say, Ivar's not going to give up. He's resolved not to abandon his choir before performing at his greatest gig ever. But during this race against his own death, he will desperately need his friends' help. These very men from the titular room. They never thought they would have to wear their only official suit at their best friend's funeral. No one knows what will happen tomorrow. But there's one sure thing: when these men appear on stage, no grief will stop them. They will rock.
Nikita Kartsev