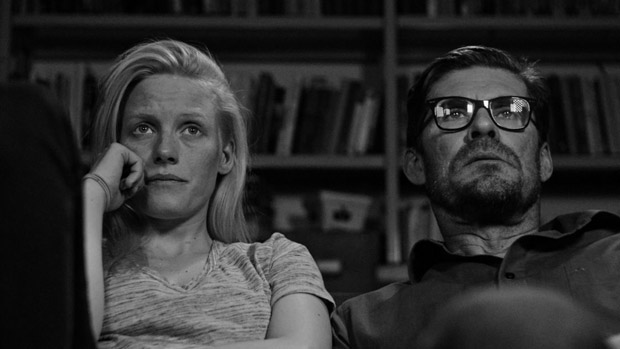 TYHJIÖ
VOID
director Aleksi Salmenperä
Finland
2018
97'
Eero's career as an author is spiraling down: he just can't get started with his new novel. The ambitious actor Pihla is about to get her international break. Neither of them is willing to sacrifice their career even though their relationship is doing worse than ever. Void is a comedy-drama about the price of success and the agony of failure, and about situations where your partner just doesn't get it.
Aleksi Salmenperä
Born in 1973 in Helsinki. Graduated from the University of Art and Design. He is one of the most acclaimed Finnish filmmakers whose works have premiered in major film festivals such as Berlinale (A Bad Family, 2009), Hot Docs (Alcan Highway, 2013), Moscow (A Man's Job, 2007). He won the Jussi Award for Best Director with Distractions (2105), and with The Mine (2016) he was nominated for the Dragon Award for Best Nordic Film in Gothenburg IFF.
Aleksi Salmenperä's "Void" is a tragicomedy that "tunes" the audience right into a certain mode of perception. We see a blank document, a monitor with a blinking cursor on it. Someone sits in front of a MacBook. The image is black and white and very high-contrast. All of this combined with the title suggests that the film we are to see is about some sort of a crisis.
This proves right, Eero Kaila is in crisis. He's a writer but it's been six years since he actually wrote anything. On the surface his life is well off and comfortable, but Eero exists in the state of a siege. His wife Pihla is an up-and-coming actress on the verge of real success – this usually doesn't bode well for the husband. His editor is threatening him with a lawsuit if Eero doesn't come up with a manuscript in time. And his main competitor, bestselling author Ilmari Kuutsa is simply everywhere.
Salmenperä's film stands out in the range of countless stories about a writer's block because it's ostensibly deprived of any fantastic elements. There're no moments of fantasy penetrating life and vice versa. Seems like fantasy has left our hero entirely. Eero longs for inspiration – he goes on a cruise, dwells on his family problems and even ties himself up with a tape in an outburst of self-harm. All is in vain. The trip causes nausea, and pain comes with nothing but pain. Eero is left alone with the world where he cannot self-actualize – or change it in any way. The world doesn't stand still though and makes its inhabitants move as well. But because this world looks like an IKEA ad, the direction of the movement can only lead to success. But success comes hand in hand with betrayal.
In the beginning of the film, we see journalists talking to Pihla about hypocrisy: they say that many Finnish actresses support feminism and criticize their national cinema, at the same time downgrading themselves with humiliating roles in Hollywood. Pihla says she doesn't recognize herself in this description. She will though. When she finally makes it to international projects, they come with cheating on her husband, pregnancy with her acting partner's baby and forced participation in low-quality films.
Temptation catches up with Eero too. It comes from no other than his competitor Kuutsa who looks like an alcoholic Santa Claus with some devilry in the eye (fittingly, he even lives in Lapland). He comes up with an exciting gift for Eero, but in order to accept it, the latter has to commit forgery and take credit for someone else's manuscript. The world reigns in on the protagonists and each of them pays the price in the end. The question remains whether there is a chance to jump off this existential circle. It might seem like the film is leaning towards positive answer – when the image switches to color. But the color is directly tied to screen reality – Skype conversations, phone videos, but most importantly – in Pihla's films. Those are: tasteless Italian trash, pretentious Russian TV-series, vulgar sketches for a late night show, and a Hollywood space blockbuster. The parodies are vivid and sarcastic, but in the aesthetics of the film they are all fake, just as oppressive as the monochrome life.
That's why when in the end Eero comes to the seashore and the image turns to color, that comes as a surprise. Is it supposed to be ironic? A jab at people's hope for the best? It doesn't seem to be that. Despite its rough title, "Void" doesn't come off as hopeless. Aleksi Salmenperä doesn't provide answers or happiness "recipes", but doesn't suggest looking too closely in the abyss either.
Sergey Alekseenko