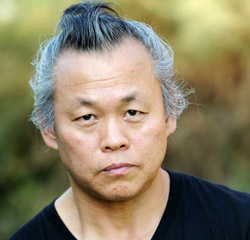 KIM KI-DUK
director
Korea
Born in 1960. After studying art in Paris, Kim Ki-duk returned to Korea and began his career as a screenwriter. He made his directorial debut with a low-budget movie, Crocodile, in 1996. Since then, Kim Ki-duk has been hailed by both critics and audiences for his hard-to-express characters, shocking visuals, and unprecedented messages. In 2000 his 5th feature Real Fiction was shown in competition program of the Moscow International Film Festival. He continued on making internationally acclaimed films such as Samaritan Girl (Silver Bear award for Best Direction in Berlin 2004), 3-Iron (Silver Lion Award for Best Direction in Venice 2004), Arirang (Un Certain Regard Prize in Cannes 2011). Most notably, his latest work Pieta has won the Golden Lion Award for Best Film at 2012 Venice Film Festival. Among his latest works are One on One (2014), Net (2016) and Human, Space, Time and Human (2018).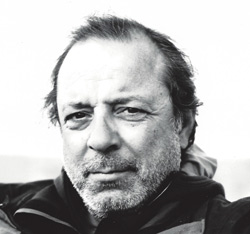 SEMIH KAPLANOĞLU
Turkey
director, producer
Semih Kaplanoğlu was born in 1963 in Izmir. He received BS in Cinema- Television from the Faculty of Fine Arts, Dokuz Eylül University, Izmir in 1984. Kaplanoğlu made his debut feature in 2001 "Away From Home", and he was awarded Best Director in Singapore IFF. In 2005, his second feature "Angel's Fall" received Best Film Awards in Nantes, Kerala and Barcelona Alternativa FF.
His third feature «Egg», which premiered in 2007 Quinzaine des Realisateurs, brought Best Director awards in Fajr IFF, Valdivia IFF and Bangkok World FF. The film received around 30 awards including important national awards such as the Golden Orange (Antalya IFF) and the Golden Tulip award (Istanbul IFF).
In 2008 «Milk» premiered at the Venice IFF, and also screened at festivals around the world, earning him international awards, such as FIPRESCI prize at the Istanbul IFF.
Honey, the third part won the Golden Bear Award in 60th Berlinale IFF.
His latest film Grain starred Jean-Marc Barr and Grigory Dobrygin was released in 2017 and won Best Film award at the Tokyo IFF. Kaplanoglu, who is widely regarded as one of the most accomplished and influential directors in Turkish cinema, has received over thirty international awards worldwide.
He was a jury member in 2013 Cannes Film Festival Cinefondation and Short Films. He also is member of the European Film Academy as well as Asia Pacific Screen Academy. Besides his main pursuits in cinema, Semih Kaplanoğlu wrote articles between 1987 and 2003 on plastic arts and cinema which were published on arts periodicals and translated into foreign languages.
As a producer, he recently contributed his fellow director Aida Begic's «Children of Sarajevo» which earned a special mention in 2012 Cannes Certain Regard.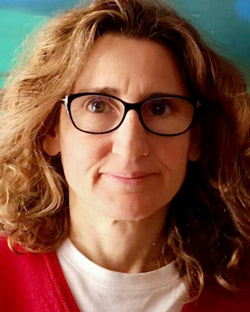 VALIA SANTELLA
writer, director
Italy
Valia Santella was born in Naples and she started her career in the theatre as assistant director. After a few years, in 1990, she has become a script editor and collaborated with some of the most popular Italian directors, as: Mimmo Calopresti, Antonio Capuano, Pappi Corsicato, Daniele Luchetti, Mario Martone, Nanni Moretti, Gabriele Salvatores, Silvio Sol-dini.
In 2001 she worked for the documentary Nel nome del popolo italiano produced by Angelo Barbagallo and Nanni Moretti for Sacher Film. In 2004 she directed Te lo leggo negli occhi, her first feature film, with Stefania Sandrelli and produced by Angelo Barbagallo and Nanni Moretti for Sacher Film. Also, she directed Il vizio dell'amore, TV series for Fox.
Since 2010 Valia Santella works mainly as screenwriter. She is the author, together with Francesca Marciano, of the script of Miele (2013) by Valeria Golino. She is the author, to-gether with Francesco Piccolo e Nanni Moretti, of the script of Mia madre by Nanni Moretti (2015). She is the author also of the script of Fai bei sogni (2016), together with Edoardo Albinati e Marco Bellocchio. And also she wrote Pericle il Nero (2016) together with Fran-cesca Marciano and Stefano Mordini; and with Gianni Romoli and Ferzan Ozpetek Rosso Istanbul (2017) and Napoli velata (2018) by Ferzan Ozpetek; Euforia (2018) by Valeria Golino, with Francesca Marciano and Valeria Golino. She is currently working at many projects for TV and cinema, as the new film by Marco Bellocchio, Pappi Corsicato, Leo-nardo Di Costanzo and Nanni Moretti.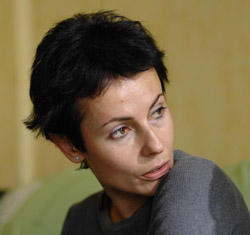 IRINA APEXIMOVA
Actress
Russia
Irina Apeximova was born in Volgograd in the family of classical musicians. In 1990 she finished the MKhAT School Studio. While still a student she studied at the School of Modern Dancing with the Florida University (USA), at the Julliard (New York) and Barbican-Centre (London, Great Britain) acting schools. Later she was accepted to work at the Chekhov MKhAT, where she remained until the year 2000. In 1987 she debuted in cinema in "The Tower" by Viktor Tregubovich. In 1993 she was named Best Actress at the Paris Film Festival for her part in "October". Her popularity grew after the series "Trifles of Life" (1992) and the film "Limita" by Denis Evstigneev. In 1997 she appeared in Phillip Noyce's spy blockbuster "The Saint". Her most notable works of the period include "Male Revelations" (1996), "Mu-Mu" (1997) and the TV series "Bourgeois' Birthday" (1999), "Impostors" (2000), "Empire under Fire" (2000), "Cage" (2001).
In 2000 she founded her own theatre agency "Bal Ast". From 2006 to 2008 Irina Apeximova hosted the program "Good Morning" on "Channel One" and continued to act in movies and on TV. The most memorable works are "Book of Masters" (2009) and "A Game of Truth" (2013). From May 2012 to April 2015 she was the general manager of Roman Viktyuk's theatre.
In 2013 Irina Apeximova came up with the idea of and produced the festival of theatre art in the open "Theatre March". In 2015 she was appointed the general manager of the Theatre in Taganka. She is the author and manger of the theatrical project "Rehearsals" which received the theatre award of the newspaper "Moskovsky Komsomolets".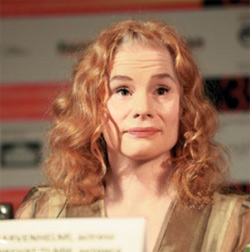 MARIA JÄRVENHELMI
Finland
Was born and grew up in Finland. Debuted in cinema in 1986 in «The Kid at the Bonfire». In 2000 she graduated from the Finnish Theater Academy, and that same year she was nominated for the Finnish National Film Award, Jussi, for her role in the film «Bad Luck Love», directed by Olli Saarela. She received another nomination for her role in «Rollo and the Spirit of the Woods» (2001), also directed by Olli Saarela. In 2000 Järvenhelmi played one of the leading parts in «Faith, Hoope, Blood» with Klaus Maria Brandauer and Nikita Mikhalkov, but the project was not completed. The actress received international acclaim for her work in the film «Lights in the Dusk» (2006), directed by Aki Kaurismäki. In 2013 she played Amalia in the movie «Role» by Konstantin Lopushansky, which premiered in competition of the 35th Moscow International Film Festival. In 2017 she played a cameo in «Dovlatov». Maria Järvenhelmi's filmography numbers more than 40 roles. At home she is also known as Meno-Anu, a member of the popular rap band «Notkea Rotta».